On 04/24/2020, State Farm Insurance Company in Missouri was presented with a third-party inherent diminished value claim by a Tesla owner. All cars lose value once they have a repair history. The estimate to repair his $70,000 car was more than $20K and included structural damage. Structural damage is one of the two most significant factors contributing to extreme devaluation, the other being air bag deployment. The car owner hired AUTODIMINISHEDVALUE.COM to prepare an auto diminished value appraisal showing proof of the existence and approximate amount of diminished value.
WE DON'T USE FORMULAS, ALGORITHMS, AD COMPARISONS OR OTHER SHORT CUTS
SIX UNBIASED DEALER QUOTES IN EVERY APPRAISAL TO VALIDATE OUR RESEARCH
TELEPHONE CONSULTATIONS ALWAYS FREE-OF-CHARGE
As a result of our research, it was determined that the Tesla lost about 35% of its pre-accident value; more than $22K. The vehicle owner presented our auto diminished value appraisal and demand letter to State Farm. The insurer's file handler produced this letter of denial to our client.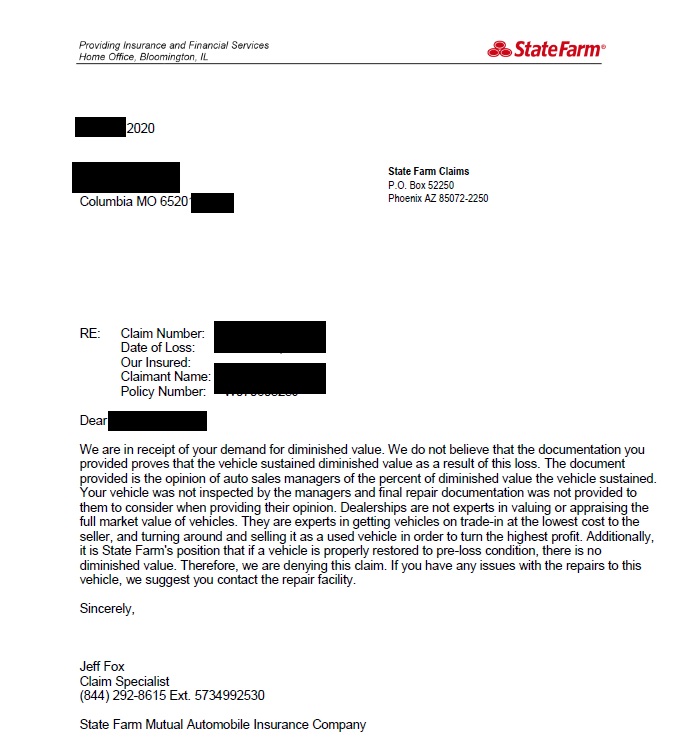 The insurance company action was a classic example of misdirection, misinformation and fabrications designed to confuse the consumer. After reaching out to us, we provided the following reply to our client.
7/21/2020 State Farm's response was a typical boiler plate denial. Now you need to escalate this to a supervisor. Please point out the following to them – IN WRITING.
State Farm wrote that your vehicle was not inspected by the managers giving opinions. In fact, and as you can see from the comments in my appraisal that the State Farm claims rep failed to read "Our research was done based on a properly repaired vehicle. The quality of the actual repair, or whether that work was completed, is irrelevant for the purposes of this report." This means that our research was done assuming the vehicle was repaired perfectly. Even if repairs were done to factory standards – and the quality of the repairs was mentioned to the managers – your car lost value in line with the figures we provided. So, your perfectly repaired  Tesla Model S75 AWD Sedan with 13,000 miles that had structural damages still lost 35% of its pre-accident trade-in or fair market value.
State Farm wrote that final repair documentation was not provided to the managers, this is a false narrative because we explained "We contacted several exotic car dealers in order to establish how these repairs and the resultant damage history would impact this vehicle's Fair Market Value (FMV.) Dealers were provided with an evaluation of the vehicle's condition both prior and subsequent to repairs. Description of damage: Non-disabling collision damages to the Right Side, including structural components. Repair cost $20K. LKQ (used) and/or aftermarket parts were not utilized in the repair/not factored into the diminished value. " – in detail – what repairs were done.
State Farm wrote "Dealerships are not experts in valuing or appraising the full market value of vehicles. They are experts in getting vehicles on trade-in at the lowest cost to the seller, and turning around and selling it as a used vehicle in order to turn the highest profit." This would be true if any of these dealers were getting the car but they were all told – again, as is plainly mentioned in our appraisal "All of the dealers queried were informed that the subject vehicle was not available for purchase or trade, therefore none of the dealers queried had any vested interest in the subject vehicle. "– that the car was not available. They absolutely can be considered unbiased for this reason.
You should also ask State Farm to provide you with the name of a dealer who will pay full trade-in value for the car.If you are confronted with further roadblocks, make a complaint to the Missouri Insurance Department for Unfair Claim Practices.
As it turns out, State Farm did not show good faith. A complaint was made to the Insurance Department. This was followed by State Farm's acknowledgement of wrongdoing. Our client wrote the following.
9/15/2020 From the Tesla owner: I wrote a comprehensive complaint to State of Missouri against State Farm. They contacted State Farm. I got a phone call today from State Farm that they have re-opened the claim and are going to hire their own diminished value expert to see what the settlement should be . They said they were removing the previous file handler from the case.

9/21/2020 State Farm offered $7,000.00 for the diminished value of the Tesla.
On 12/10/2020,I called our client – the Tesla owner – to check in; to see how his situation has progressed. He reported that a satisfactory settlement was agreed upon. The lesson, unfortunately, is to cast doubt upon anything the insurance company tells you. Then find an appraiser who will go the extra mile in order to facilitate a happy ending.
Please read our informative Q & A site about Automobile Diminished Value. Please take a look at what our customers have to say about our services. We are happy to answer any questions that you may have. Diminished value is a fairly new concept that most people don't know about so feel free to go ahead and ask us.
READ CUSTOMER REVIEWS OF THE ST. LUCIE APPRAISAL COMPANY


Click on the payment button above to pay by Credit Card or Paypal. The fee for an Automobile Diminished Value Report is
$275.00. You may also make your Credit Card Payment by telephone, call 772-359-4300.

After making your secure payment please email the body shop estimate or insurance company appraisal to contact@autodiminishedvalue.com
TESLA AND OTHER EXOTIC CAR OWNERS PLEASE CALL FOR RATES.
Service throughout Alabama, Alaska, Arizona, Arkansas, California, Colorado, Connecticut, Delaware, Florida, Georgia, Hawaii, Idaho, Illinois, Indiana, Iowa, Kansas, Kentucky, Louisiana, Maine, Maryland, Massachusetts, Michigan, Minnesota, Mississippi , Missouri, Montana, Nebraska, Nevada, New Hampshire, New Jersey, New Mexico, New York, North Carolina, North Dakota, Ohio, Oklahoma, Oregon, Pennsylvania, Rhode Island, South Carolina, South Dakota, Tennessee, Texas, Utah, Vermont, Virginia, Washington, West Virginia, Wisconsin and Wyoming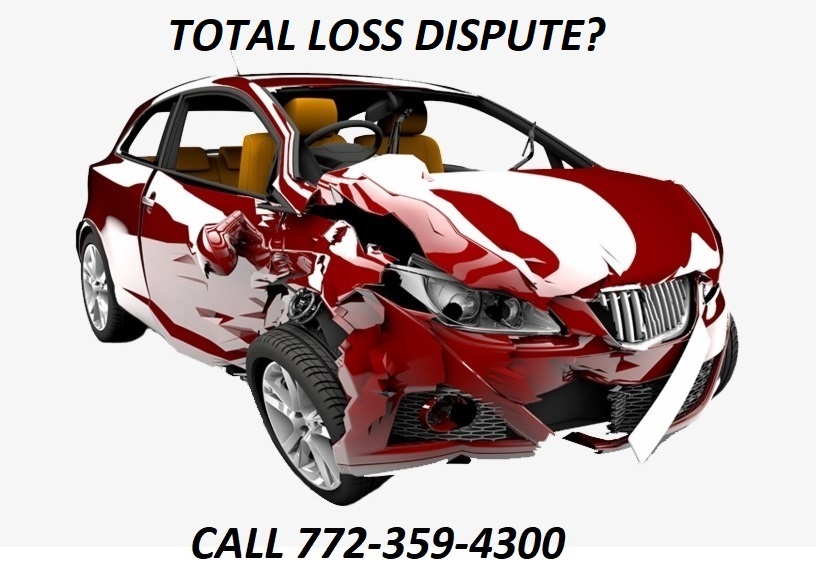 This is an Open Education resource focused on auto diminished value, collective knowledge and the sharing of scholarly content.
AUTODIMINISHEDVALUE.COM and TOTALLOSSDISPUTE.COM are services of The St. Lucie Appraisal Company